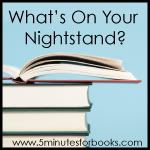 Wow, so we are already well into January and thus starting off 2013 with a bang! I am determined to get back into reading at a brisker pace then happened this past fall. There are so many books that I want to read and to get to them, I need to finish my current pile.
One of my goals this year is to abandon books that I am not enjoying or wait if it is not the right time. There are too many greats to suffer through reads that are not helpful, practical, or enjoyable. That does not mean I will love every book. I do force myself through some books simply because I want to know the information. I am sure that I will do this still, but perhaps with a smarter tilt towards what is best for my time, schedule, and needs.
So here is where I stood the past two months. The first book is all the was finished in December.
Finished since the last update:
Presently Reading:
So, what are you reading?